How to choose a human hair wig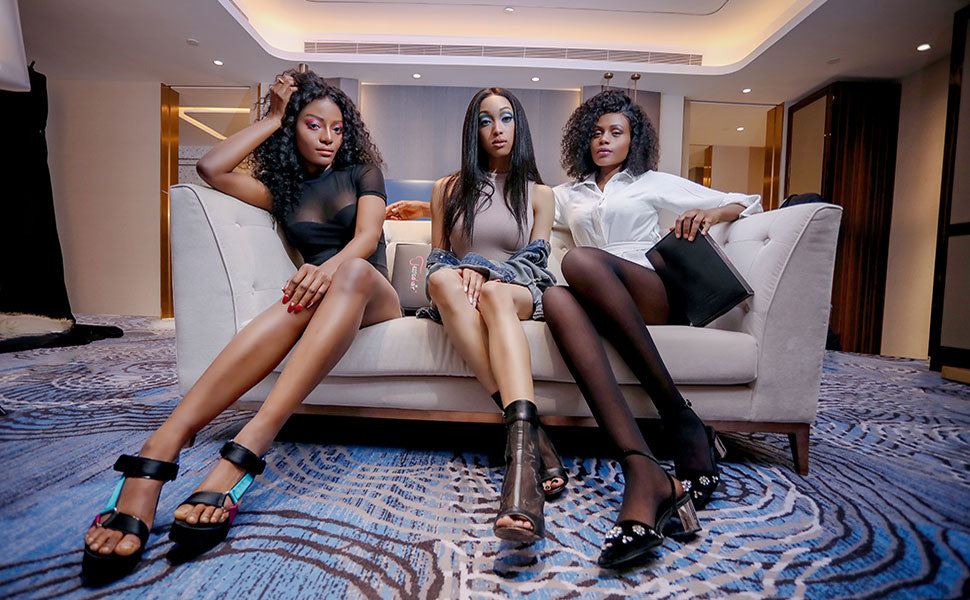 Human hair wigs becomes more and more important between females nowadays, because they could change your looks and styles in minutes just by applying a favorite wig. But before buying a wig, we must know some basic knowledge that helps us make a better decision to spend your every cents worth. OK, lets get start!
Hair grade:
 There are mainly three hair grades as virgin hair, remy hair and non-remy hair which some factories call them 10A human hair, 9A human hair, and 8A human hair accordingly. If you use a magnifying lens to watch the human hair, you will find the outside of human hair are covered by scales(cuticle) like fish scales (see the following picture).

Virgin hair refers to the hair directly cut down from a girl, that is why many sellers say virgin hair is from one donor, in this way, the hair roots are roots and ends are ends and the scales of the hair are pointing to the same direction. what's more, the hair length is more the less the same and the thickness of the roots and ends are nearly the same.
Remy hair refers to those hair with their scales pointing to the same direction but not necessarily from one donor, so many people called it cuticle aligned hair in fact above 90% cuticle aligned hair could be called remy hair. This is most popular hair material and  about 80% hair products are made with remy human hair. With aligned cuticle, the hair will not easy to tangle. but remember even virgin hair will tangle if not care properly, so tangle is not the only standard for judging good human hairs.
Non-remy hair refers to the hair collected from many females and not cuticle aligned, and this kind of hair need acid bath to make them smooth enough, while going through acid, the cuticle may be slight destroyed, so it will shorten its life span, after the explanation, we would get a general view that virgin hair is better than remy hair and then non-remy hair. This is true for most cases but also depends on hair quality. In fact, remy hair is good enough to meet our needs including dying and making styles. But remember, we'd better keep our hair its original state, because every time we make it, we will shorten its life span by destroying its protective cuticles.
Hair length
What we say hair length is stretched length. So, for the same length, curly hair is shorter than straight styles, we will take straight bob wigs as an example, 10 inch length hit the shoulder while the 12 inch reach the collar bones, but for curly hair, 12 inch may hit the shoulder. So if we have a clear view about this, we could buy the length as expected. Generally, hair length range from 8inch-28 inch, but most popular length stays between 18inch to 24 inches. Check the following hair length measurement to catch this better.
Hair texture
There are four classic hair textures like straight, body wave, loose wave, and curly hair. You can try any one you like, I think you really should try and change your look by using different texture. In fact, you can buy straight ones and make the styles by yourselves or your stylists. Apart from these four styles, they are also many other specific textures like yaki straight, bouncy curly, kinky curly and so on.
Hair color
Black color is the most popular one, but colorful color is also required. If you are professional, you can bleach the color and dye it to other color , but most cases the hair could only dye to darker color. So, if you are not professional, buy the color that you want directly. Following is the most common colors for hair, you can have a look.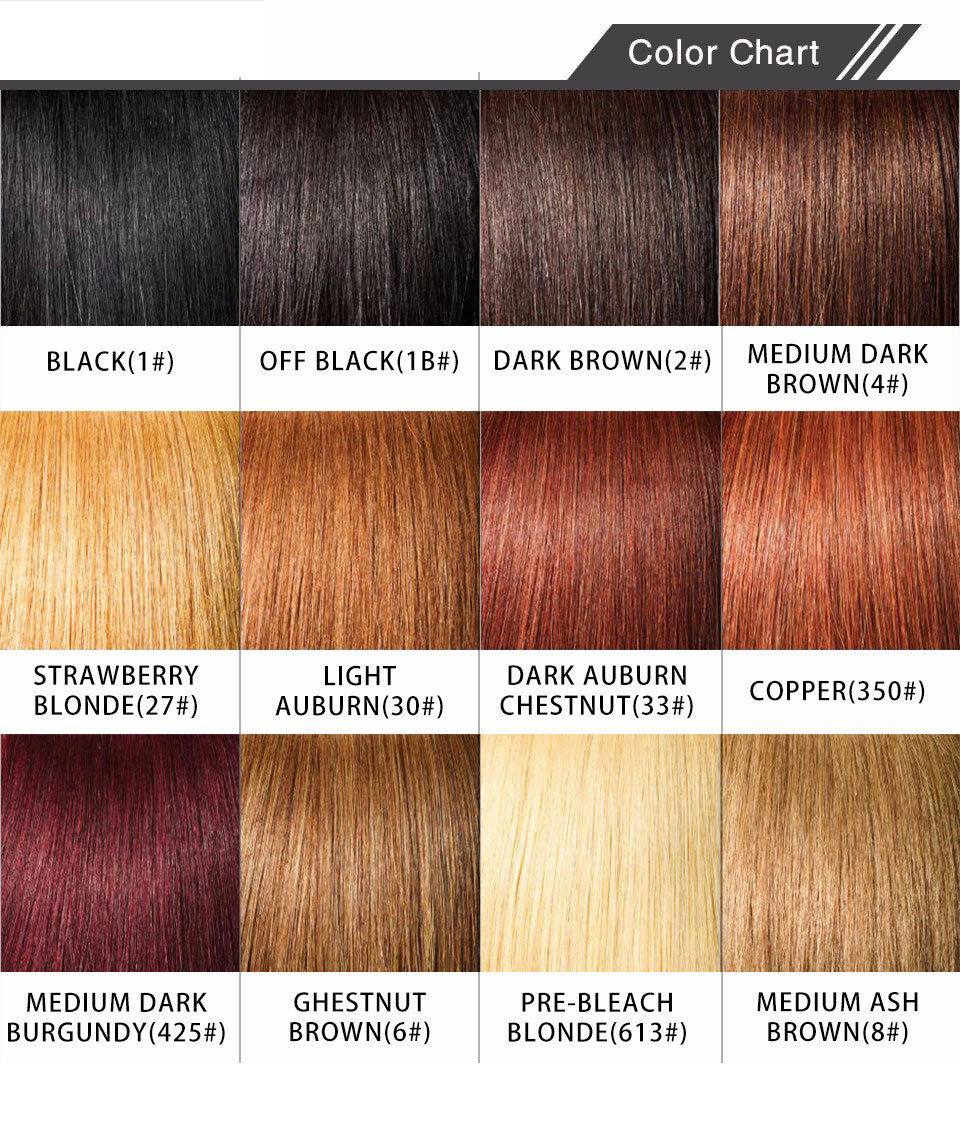 Density
Density refers to the thickness of the hair on a wigs. Generally speaking, non-lace wig are 130% density lace wigs starts with 130% and this is the average density, there are also150%, 180% and 250% density. If you want fuller effect, you can buy thick density
Lace size 
The effect of lace is to make the hairline nature. So there are 1*4 lace closure, 4*4 lace closure, 5*5 lace closure, 6*6 lace closure, 13*4 lace front, 13*6 lace front, 360 lace frontal and full lace wigs. If you just need a hairline, you could choose 4*1, in fact, you could make your hair styles like ponytails and hair buns with the hair on the lace, and you could make any hair style anywhere on full lace wigs. human hair on the lace are all hand tied, so, generally speaking, the bigger the lace size is, the more expensive the wigs are. Choose proper lace size according to you needs. Among the buyers, 130% and 150% density is the most popular ones.
Lace color
Some buyer worry about the lace color may make the skin look unreal, and many of them will bleach the knot which is in fact bleached the lace. But we suggest you make the lace color close to your skin color by using your makeups. This is many users do and they all think this works well.
Caps size
Average size covers 95% of people, if you head is a little bigger, there is an adjustable strap which is friendly for the bigger head, actually you could just loose the strap to make the cap size fit you. But if you head is especially big, we suggest you buy a customized wig for your special head, after all the adjustable strap is limit. check the flowing measurement for reference.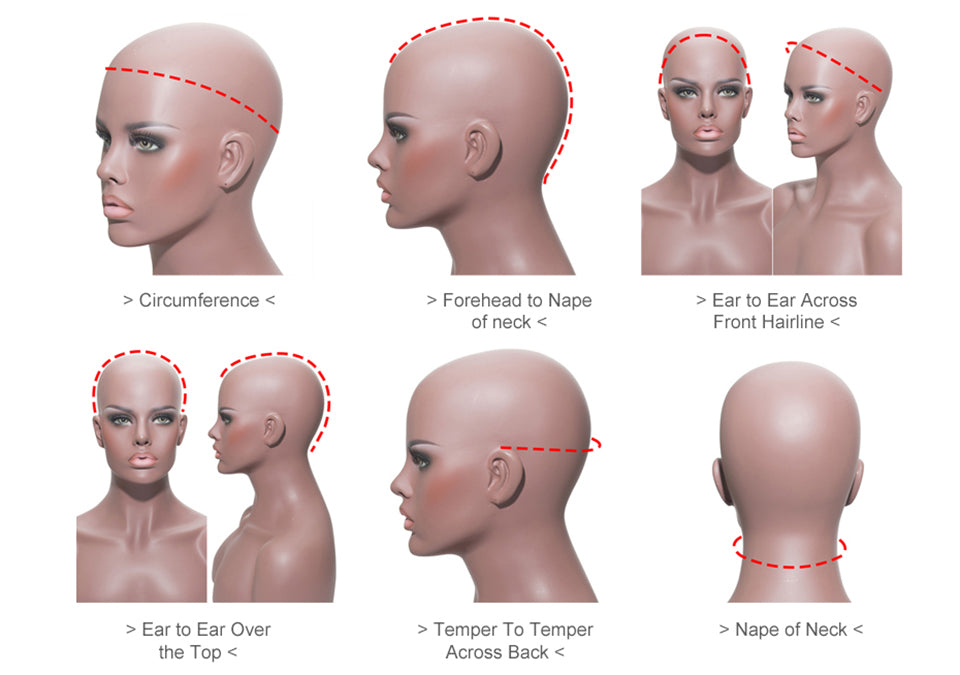 Your budget
Your budget is also very important for choosing the correct hair wigs. Like buying a mobile, we are not buying the most expensive ones but the ones that meet your needs perfectly. Choose a favorite one with a proper price is a wise decision all the time. If you have a tight budget, non-lace wigs are also a good choice.